Okay, I have to admit that I can't see Ben Stein's byline without thinking of his character (an economics teacher, of course) in Ferris Bueller's Day Off. As such, I am including a visual reminder for your viewing pleasure: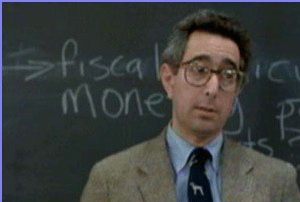 But I digress...Ben Stein has an article in today's NYT entitled
"Lessons in Love, by Way of Economics"
. This article briefly describes the economic principles that, he argues, *should* guide our romantic choices. One part caught my interest in particular:
"When you have a winner, stick with your winner. Whether in love or in the stock market, winners are to be prized."
Now, consider the empirical finding in the stock market (called the disposition effect) that investors have a bias towards selling off winners (to realize gains) and holding on to losers (to avoid realizing losses). I am scared to think about how the disposition effect carries over to the relationship market. *shudders*
For way more disposition effect references than you would ever want, see
here
.